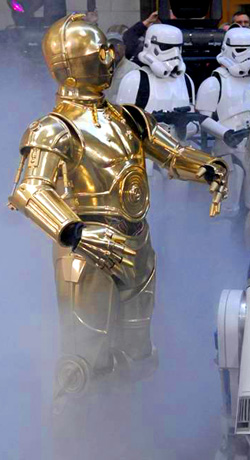 Star Wars C-3PO for The Today Show

Designer: Brian Hemesath
The Today Show, Holloween Day
2009
New York City

Joining our collection of Star Wars armour is a newly molded version of C-3PO worn by Kathy Lee Gifford for The Today Show's Halloween Extravaganza. Using both existing and newly sculpted molds, Costume Armour created this custom suit in less than three weeks (on time) and under a very limited budget. The show asked for a version similar to the original film model that would not only fit Kathy Lee, but would feature a removable face so she could reveal her identity on camera. The costume is made from a highly reflective gold mylar plastic with brass and aluminum pistons, urethane castings, reflective eyes, leather and magnetic closures. As with our other Star Wars replicas, this costume is only available for sale through Lucas Licensing.